◆bathroom for common use (onsen/hot spring)...1st floor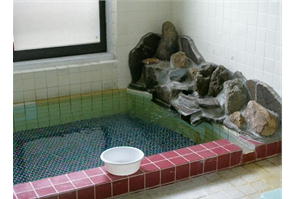 1 bathroom only. Usable by a man and woman change or usable for private.
Bathroom is usable from 4 pm to midnight
* body soap and rince-in shampoo are there (in bathroom).
* hair-dryer is usable in washroom.

* There is no rocker, so please check your valuables at the front desk.
* If you don't have towel, you can buy it (\100). rental bath-towel is \200.

◆ Quality of Onsen ◆
classified as a simple hot spring (hot spring with a hypotonic low alkaline level).
They are believed to be effective in relieving fatigue, neuralgia, muscular pain, arthralgia, etc.
 You cannot drink onsen.
contraindications of bathing
Early pregnancy, woman of the third pregnancy trimester, hemorrhagic disease,
Malignant tumor, Severe heart disease, Respiratory failure, Renal insufficiency,
High anemia, Active tuberculosis
◆toilet:
Western-style toilet (unisex toilet) ...1st floor
Japanese-style toilet (for man / for woman)...2nd floor
◆parking: 7 cars available (free)

---
other facilities
◆ free Wi-fi 'Freespot'is available in your room, dining room.
◆ washing machine \100/each time
◆ refrigerator 1st floor, microwave for common use...2nd floor (in winter), 1st floor (in summer)
◆ free drink corner (hot coffee & hot tea) 2nd floor
◆ There is no vending machine, however you can buy some drink . Please ask us until 11 pm. (canned coffee, plastic-bottle tea, canned beer, mineral water, orange juice etc.)