1-2-17 Sakuraoka, Teshikaga-cho,Kawakami-gun, Hokkaido, Japan
TEL. +81-15-482-5124
* Please make sure to use this official website 'onsenmako.net',  and not scam websites.
charge is local payment only. not pre-payment!!
*** We are closed for the time being due to the increasing number of novel coronavirus infections.***
Check in / check out
●Check in time:from 4 pm to 9 pm.
●Entrance close:11 pm
●Check out time: 9:30 am *If you want to go out early in the morning, please tell us in advance.

●Day time close: 9:30 am to 4 pm *except in the case of storm
You can leave your baggage in your room during day time close, but please carry your valuables with you!!
●If you eat out
Our inn is 20 min. walk from Mashu station. Nearest restaurant is about 20 min. walk from our inn. Convenience store is about 15 min. walk from our inn. Taxi ends in 8 pm, so please be careful if you go for a drink.
●There is no smoking room / no smoking area
For travelers by travelers!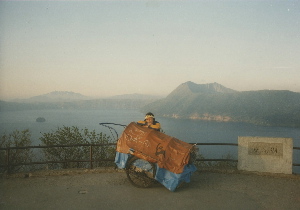 Owner had travel around Japan by his bicycle, and walked around Japan towing-trailer called `rear-car`.He love
Lake Mashu and will recommend nice, little-known spots of Lake Mashu and Lake Kussharo.Our motto is to continue to
have a traveller's perspective and want to see people who love to travel.